Welcome back to Weekend Highlights! With Christmas fast approaching, expect a lot of festive activities the next couple of weeks. Let's jump straight into what this weekend has to offer!
December 4th, 2021, Rodney is hosting a Night Market! From 4pm-9pm enjoy over 60 vendors and food trucks, Spirit Square-a local winery and 3 local craft breweries serving beverages, a festival of lights, and storytime with Mrs. Claus! A fun evening for the whole family! The Kiwanis Club of Rodney will be collecting non-perishable items and toiletry donations at street entrances for The Caring Cupboard. Head on over to Furnival Road, have a jolly time and support the community!
Experience "A Magical Christmas" at Pinafore Park, St. Thomas! Hosts Karen Vecchio and Jeff Yurek are bringing the Christmas cheer to town for a second year! The Reverse Santa Claus Parade is simple. All you need is a car or two legs to tour the park decorated for Christmas free of charge. Picture this- Christmas music playing in the car, a hot chocolate in hand filing your stomach with warm chocolaty goodness. You look out the window at the crisp winter air thankful for the working car heater, and excitement fills the air as you take in the Christmas lights and decorations amongst the snow covered trees. What a sight to see! December 3-5, 2021 don't miss the opportunity to spend time with family and friends at Pinafore Park!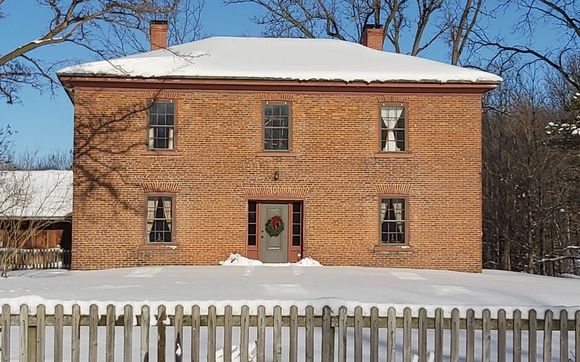 Last but not least, Backus-Page House Museum invites you to tour the house museum decorated for Christmas with a Victorian themed audio guide, plus the new Agricultural Centre! Learn some Christmas history and observe what life was like for settlers in the 1850s! Pick up some authentic gifts while you're at it in our museum giftshop! Admission is $10.00/Adult and $5.00/Child. Consider stopping by 11am-4pm December 1st-5th, 9th-12th, 16th-19th, 21st-23rd, and the 27th-30th. We hope to see you there!
We hope everyone stays warm and has a great weekend!