Welcome back to another post of Weekend Highlights! Boy does this weekend have a lot in store! Let's jump straight into what the community of Elgin County has for you December 11 & 12 2021!
Let's start first with events in St. Thomas! The Ice Box is bringing Christmas cheer to Ross Street December 11 & 12 from 11am-8pm! Enjoy live music, vendors, and Christmas window displays!
The Aerial Addicts performance team presents Rudolph the Red Nose Reindeer with a cirque twist! The holiday classic will be performed Friday December 10th to Saturday December 11th at 7pm with doors opening at 6:30pm. Tickets cost $10/Adult and $5/Children 10 and under with nonperishable food items being collected and donated to the local food bank! Tickets are also for sale at the door! I'm sure you know the Covid drill by now, masks are required and proof of vaccination to be shown upon entrance.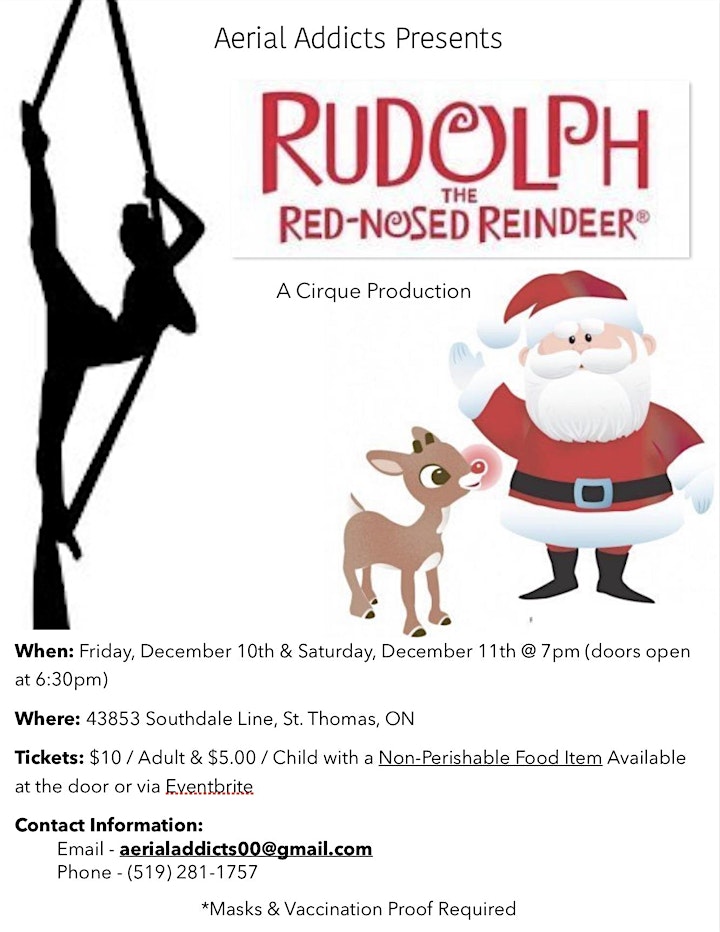 Let's take a look at what the water front town of Port Stanley has to offer this weekend! The Little Market Collective is hosting a Christmas market Saturday December 11th 2021 from 11am to 3pm! The market will feature 20 small business vendors, selling unique handcrafted items! Don't miss out on this great opportunity to check some Christmas shopping off your list! The event will be held at the Port Stanley Arena 332 Carlow Road. Admission is free!
Catch a train ride of scenic Kettle Creek Valley with Santa this weekend at Port Stanley Terminal rail! That's right, Santa's only form of transportation isn't just a sleigh! He enjoys train rides too! Every weekend, Saturday & Sunday, until December 19th you have the opportunity to meet Santa and enjoy a Winter train ride with family! Book your tickets in advance to avoid disappointments at the terminal at https://www.pstr.on.ca/events.htm#se
Last but not least, let's see what Dunwich Township has going on this weekend! The Optimist Club is bringing the community the 2nd Annual Drive-Thru Winter Illumination! You'll experience amazing LED light shows choreographed to your favourite Christmas music and of course a Christmas parade isn't complete without Santa Claus! Last year the show had over 5,000 people and 4 truck fulls of canned goods! Let's beat last years numbers and have fun while supporting the community!
We at Backus-Page House Museum are hosting another year of A Very Victorian Christmas Tour! Experience Christmas in the 1850s with the decorated house museum and Agricultural Centre. Admission is $10/Adult and $5/Child. Open from 11am-4pm on the dates shown below on the poster! Book your tickets in advance at https://backus-page-house.square.site/s/appointments
Enjoy what your community has to offer this weekend and support local! Have a safe and festive weekend!