Another day, another weekend jam packed with highlights!
It's that time of year, Rosy Rhubarb Festival is here!!! Saturday June 11th and Sunday June 12th from 8am-4pm, fill your weekend with local venues, food, crafts, music, festival rides, a car show, and so much more! Shedden is the rhubarb capitol of Ontario! The Rosy Rhubarb Festival mainly started as a fundraiser for the Keystone Complex over 25 years ago. Now the event stands as a favourite annual festival for many in the area honoring the plant that put the town on the map! The community of Shedden partake in a town wide garage and bake sale. What a great event to try some of the areas best homemade tasty treats, canned goods and give gently used items a second chance! This year you'll get the opportunity to view the new historic mural on the picnic pavilion by artist Candy McManiman. Candy started the art piece in the fall of 2021. It features local history, women's independence and a glimpse into the past. Take a look at the vendors that will be at this years festival! https://www.rosyrhubarbfestival.com/new-2020
This Saturday June 11th 2022, don't miss The Crooner Show at the Port Stanley Festival Theatre! The Crooner Show was created by Rick Kish, and celebrates some of the greatest songs by the most popular crooners of all time. What is a crooner you might ask? A crooner is typically a male singer who sings sentimental songs in a low, soft voice. Some artists the show will feature songs from include Sinatra and Bublé. 90 minutes full of great songs, stories and a blast back to the 50's and 60's! Join crooners-Rick Kish, and Conner Boa, Pianist/Director-Nevin Campbell, Bassist- Larry Ernewein, Drummer- Sandy McKay, Set Designer- Eric Bunnell, and House Technician- Aneta Kozina! They will be playing all week so snag a chance to listen to hit after hit! Check out the Port Stanley Festival Theatre website for more information https://psft.ca/event/the-crooner-show-2/
Talking about events happening this weekend in Port Stanley, the Annual Port Stanley Artist Guild Show and Sale starts this Friday going throughout the weekend! Visit the Royal Canadian Legion in Port Stanley to see one-of-a-kind pieces that you can purchase for your cottage or home. There will be a wide range of mediums, sizes, styles, and prices of art by some of your favourite local artists. Meet the artists, support local, and soak up the great atmosphere Port Stanley has to offer this sunny weekend. This event is fully free, that includes parking as well! June 10th from 6pm-9pm, June 11th from 11am-8pm, and Sunday noon-5pm.
Wanting to get active? Want to support a non profit organization? Why not do both at the 2022 Just Cause 2.5 and 5km Run or Walk! This Sunday June 12th at 9:30pm, join members in the community getting active and raising money to improve educational programs, equipment and facilities for youth in Uganda. Where does this event take place? St. Joseph's Catholic Highschool in St. Thomas! Check out the website below to learn more and find out exactly what the organization is looking to bring to Uganda! https://raceroster.com/events/2022/60770/just-cause-25-and-5km-runwalk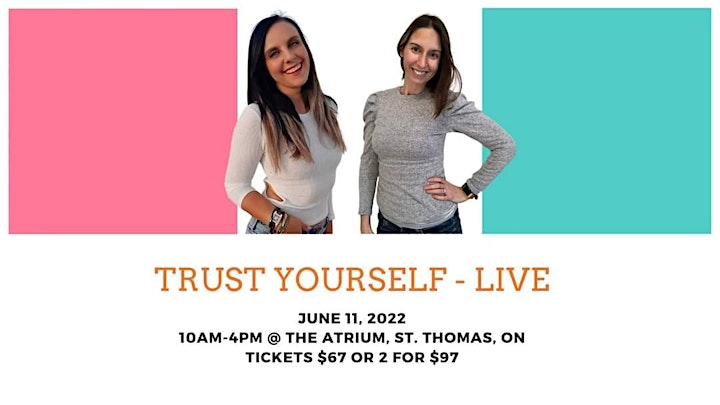 This Saturday June 11th, join Jane Baker & Katie Kahvo for their uplifting workshop Trust Yourself. This event is for women business owners looking to dive into sales and success! Take the jump and learn strategies, how to unlock creativity and TRUST YOURSELF. This Saturday June 11th, 2022, 10am-4pm at The Atrium St. Thomas. To book your tickets now visit https://www.eventbrite.ca/e/trust-yourself-live-for-women-business-owners-tickets-311159976867
This weekend is "jam" packed with great events! Rosy Rhubarb, The Crooner Show, The Port Stanley Artist Guild Show & Sale, Just Cause Walk & Run, and Trust Yourself Workshop! So many cool activities! What are you going to get up to this weekend?